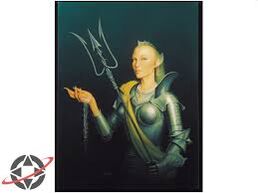 Kirenna is the monarch of Veruna in the game Total Annihilation: Kingdoms.
Description
Edit
From the Handbook's page 40:
"Kirenna, masterand monarch of the Verunan isles can build all Tier 1 structures available in Veruna. She is a fearsome and spirited warrior as well, wielding a powerful trident and able to hit enemies with a variety of magical spells: Water Ball, Water Burst and Water Blast."
Like the other three monarchs, Kirenna has three attacks: the primary being the Water Splash; then the Guided Water Ball; and lastly, the Water Wave.
Units and structures
Edit
She can build watchtowers, gates, walls, enclaves, lodestones, and sea forts.
Unique Ability
Edit
Kirenna is the only monarch able to swim. Also, she has the fastest in-game build timer.
Kirenna's water ball attack can fire around corners.