The information in this article is outdated. Please help bring this article up to date.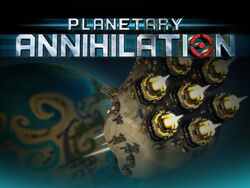 Planetary Annihilation is a real-time strategy game originally developed by Uber Entertainment, and currently run by Planetary Annihilation Inc. As hinted by its name, Planetary Annihilation is what Uber believe will be the "true" spiritual successor to the 1997 RTS Total Annihilation.
The game was announced with a CGI-animated trailer showing a gameplay visualization, as well as interviews with some of the development team.[1] Although the initial goal of $900,000 had been surpassed,[2] pledges still kept coming through right up until the funding deadline on the 14th September.
Despite the amount of doubt as to whether all the stretch goals would be reached, their final Kickstarter amount came in at $2,229,344,[3] achieving all the goals and making it the 5th most funded game project on Kickstarter;[4] their PayPal total at the time was $101,876 bringing the grand total up to $2,330,220. [5]
Gameplay
[
]
Multiplayer games can have up to 40 players participating.[6] Skirmish mode against the AI is something Uber plan to put into Planetary Annihilation as to relate to Total Annihilation as much as possible.[7]
Stretch Goals
[
]
Uber Entertainment have planned out "stretch goals" that are features that would be implemented into the game; providing a certain amount of funding is reached past the initial $900,000. There are six stretch goals in total, and upon the conclusion of the kickstarter all six were achieved:
1. Naval units and water planets ($1,100,000)[8]
2. Gas giants and enhanced orbital units ($1,300,000)[8]
3. Lava and Metal planets ($1,500,000)[9]
4. Galactic War ($1,800,000)[10]
5. Full orchestral score ($2,000,000)[11]
6. A Planetary Documentary ($2,100,000)[11]
Gallery
[
]
For images related to this article's subject, see Planetary Annihilation/Gallery.
Fan queries
[
]
Although Planetary Annihilation has received large support from fans of the Total Annihilation series and Supreme Commander, questions have been voiced over whether the game has a backstory or distinguishable factions. Some players have cited on YouTube and other media outlets that the backstory can add another dimension and involves the player in a completely different and unique way. Future clan-based battles have been mentioned in videos by the developers but little has been said of how the story arc will be added, if at all.
References
[
]
External links
[
]